The Core Game with limited Ships and Missions (Level 1 funding goal) will be offline and free.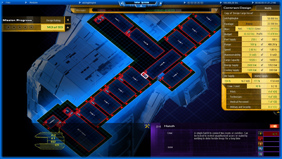 Only additional game content (Ships, Rooms, Missions, Units, Maps) will be available for sale or will be crowdfunded in packages (to avoid the pay2win situation in the online game). It can be used in both, the offline and the online game. The additional game content you will get for your contribution will not be up for sale later – however, you maybe able to purchase these items ingame from other players…
At $10 and above you will get a free account for the online game (if Funding Level 2 is reached), plus the additional exclusive game content listed below.
The Price for the online game account is not determined yet, but it will be a single payment (not monthly) within industry standards. You can Pre-Order game content, online game access and additional goodies right here:
a little help from a friend
get 1 additional Starship Fuselage "BattleCruiser Sigma" (not included in the Core Game)
online game access
unlimited access to the online multiplayer game
get 1 additional Starship Fuselage "BattleCruiser Sigma" (not included in the Core Game)
+ small game content package
a copy of the Single Player Campaign
additional Planetary Installation "Mining Colony D"
unlimited access to the online multiplayer game
get additional Starship Fuselage "BattleCruiser Sigma" (not included in the Core Game)
+ medium game content package
additional Planetary Installation "Mining Colony D"
a copy of the Single Player Campaign
unlimited access to the online multiplayer game
get additional Starship Fuselage "BattleCruiser Sigma" (not included in the Core Game)
+ large game content package
additional ERS Mission "Xenomorph"
be a crew member (with your picture)
Science Vessel fuselage "Natsushima"
additional Planetary Installation "Atmospheric Processor II"
additional Planetary Installation "Mining Colony D"
a copy of the Single Player Campaign
unlimited access to the online multiplayer game
get additional Starship Fuselage "BattleCruiser Sigma" (not included in the Core Game)
a serious investment
additional Mission "Large Cruiser Battle"
be a high-ranking crewmember (with your picture): Captain, Cyo-Unit, SBS-Team
your name in the Credits
additional ERS Mission "Xenomorph"
Science Vessel fuselage "Natsushima"
additional Planetary Installation "Atmospheric Processor II"
additional Planetary Installation "Mining Colony D"
a copy of the Single Player Campaign
unlimited access to the online multiplayer game
get additional Starship Fuselage "BattleCruiser Sigma" (not included in the Core Game)