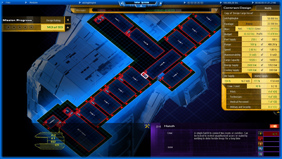 Help speed up the development by pre-ordering the Online Game and the Single Player Campaign!
The additional game content listed below will only be available for pre-order with Bitcoin! It can be used in both, the offline and the online game.

You don´t have any bitcoin yet?
Get started here.
Business Startup

Digital Download of the finished Game
get 1 additional Starship Fuselage "BattleCruiser Sigma" (not included in the Core Game)
exclusive Starship Fuselage "Vasara Transport"

Business Network

unlimited access to the online multiplayer expansion
Digital Download of the finished Game
get 1 additional Starship Fuselage "BattleCruiser Sigma" (not included in the Core Game)
exclusive Starship Fuselage "Vasara Transport"

Small Business Expansion

the Single Player Campaign DLC Pack
additional Planetary Installation "Mining Colony D"
Digital Download of the finished Game
unlimited access to the online multiplayer expansion
get additional Starship Fuselage "BattleCruiser Sigma" (not included in the Core Game)
exclusive Starship Fuselage "Vasara Transport"

Medium Business Expansion

additional Planetary Installation "Atmospheric Processor II"
additional Planetary Installation "Mining Colony D"
the Single Player Campaign DLC Pack
Digital Download of the finished Game
unlimited access to the online multiplayer expansion
get additional Starship Fuselage "BattleCruiser Sigma" (not included in the Core Game)
exclusive Starship Fuselage "Vasara Transport"

Large Business Expansion

additional ERS Mission "Xenomorph"
be a crew member (with your picture)

Science Vessel fuselage "Natsushima"
additional Planetary Installation "Atmospheric Processor II"
additional Planetary Installation "Mining Colony D"
the Single Player Campaign DLC Pack
Digital Download of the finished Game
unlimited access to the online multiplayer expansion
get additional Starship Fuselage "BattleCruiser Sigma" (not included in the Core Game)
exclusive Starship Fuselage "Vasara Transport"



Business Investment

additional Mission "Large Cruiser Battle"
be a high-ranking crewmember (with your picture): Captain, Cyo-Unit, SBS-Team
your name in the Credits
additional ERS Mission "Xenomorph"
Science Vessel fuselage "Natsushima"

additional Planetary Installation "Atmospheric Processor II"
additional Planetary Installation "Mining Colony D"
the Single Player Campaign DLC Pack
Digital Download of the finished Game
unlimited access to the online multiplayer expansion
get additional Starship Fuselage "BattleCruiser Sigma" (not included in the Core Game)
exclusive Starship Fuselage "Vasara Transport"